A Letter to Speaker Cox & Leaders, From the Council for Dr. Veronica Tyson
February 13, 2019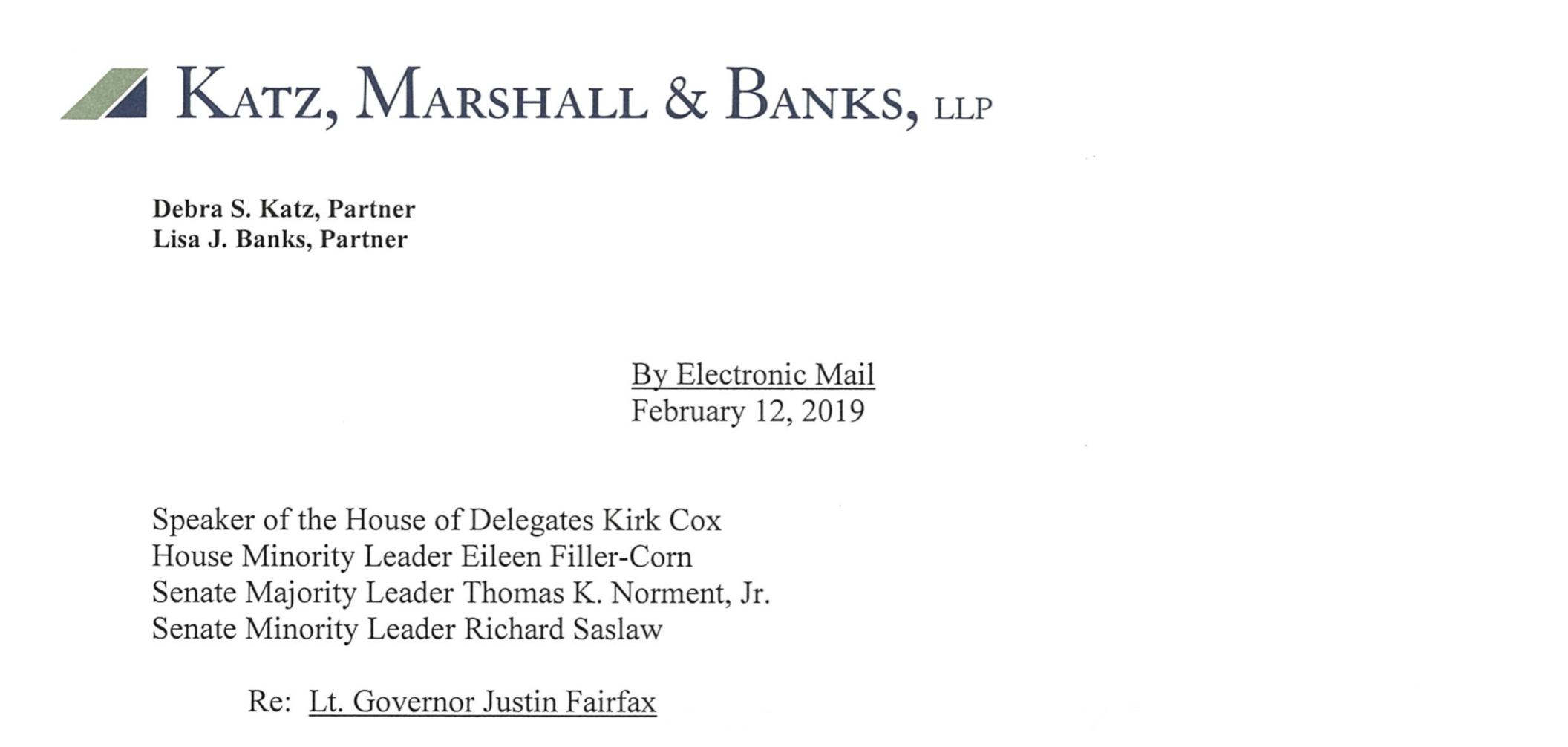 Dear Speaker Cox and Leaders Filler-Corn, Norment, and Saslaw:
We write in response to news reports that the Virginia legislature will not institute impeachment proceedings at this time against Lt. Governor Justin Fairfax, and will instead pursue an independent investigation. Whatever the forum, we expect that the Virginia legislature will oversee a thorough, fair and expeditious investigation, and take appropriate action to hold Lt. Governor Fairfax responsible for his serious misconduct, both past and present.
Any investigation into the serious allegations of sexual assault made by our client, Dr. Vanessa Tyson, will demonstrate that Lt. Governor Fairfax lacks the moral fitness to continue in public office. He has been credibly accused by two separate women of sexual assault. Specifically in support of Dr. Tyson's allegations, a number of prominent individuals confirmed to reporters from The Washington Post and The New York Times that Dr. Tyson told them about this sexual assault in 2017, well before her allegations became public. As a staunch Democrat, Dr. Tyson has no motive to fabricate such claims, and has come forward at great personal risk.
In response to the allegations of Dr. Tyson, Lt. Governor Fairfax has stated that his sexual encounter with her was consensual, but has offered no proof. He has instead engaged in a coordinated smear campaign, including falsely suggesting that a 2007 educational video revealing Dr. Tyson's childhood sexual trauma somehow supported his defense, and providing private briefings in which he has fabricated his interactions with Dr. Tyson. Lt. Governor Fairfax also lied about The Washington Post's decision not to publish Dr. Tyson's account, causing the Editor of The Washington Post to issue a rare public repudiation of his claims. We understand that more recently, Mr. Fairfax has in conversations with lawmakers and friends continued to spread false rumors about his dealings with Washington Post reporters, all in an effort to undermine her claims and paint himself as the victim.
These desperate efforts to defend himself by besmirching Dr. Tyson and Meredith Watson, both of whom have bravely come forward to tell the truth, will not succeed. This week, four staff members who work for Lt. Governor Fairfax have resigned. In addition, his law firm, Morrison & Foerster, has placed him on indefinite leave while it conducts an investigation, and Duke University has asked him step down from his position on its School of Public Policy's Board of Visitors. These are damning developments and reflect the seriousness of the allegations and the lack of credibility he has with those who work most closely with him. We expect that the Virginia Legislature will treat these allegations just as seriously as it proceeds with its own independent investigation.
We reiterate that our client, Dr. Vanessa Tyson, is fully prepared to cooperate with any effort to investigate Lt. Governor Fairfax's sexual assault of her. Whether the Virginia legislature pursues impeachment or some alternative process for investigation, Dr. Tyson hopes that it creates an environment in which the victims, their witnesses, and any other individuals harmed by Lt. Governor Fairfax can come forward to provide information vital to any credible assessment of his character and fitness for office. We are confident that a full airing of the facts will substantiate Dr. Tyson's allegations.